NOT IN OUR NEIGHBORHOOD!!!
Solving Homelessness the Compassionate Way
The affordable housing and homeless crisis had become an unresolved and growing festering sore in Hawaii already before the Covid-19 pandemic and will likely explode further as rent subsidies and employment for the most in need dries up further. While it was hoped that people would become more compassionate during the pandemic, we seem to be back to old norms. Proposed short-term gap-measures or even long-term solutions proposed, whether in Kailua, Kaka`ako, Waikiki, or anywhere else, are often met with the old outcry "Not IN OUR NEIGHBORHOOD" by often misguided local community activists.
So, in Waimanalo, a group of dedicated out-of-the box thinking persons started to construct a village for local homeless on DLNR land that they hoped to lease, gathering the most in-need and sick living along the highway in tents at Waimanalo Beach Park and surrounding bushes everywhere inclusive of "Sherwood Forest." Unfortunately, their limited village site is located in a flood and tsunami evacuation zone whose issues, among other concerns, have not been resolved (Map 2 Red X).
But why did it have to come to that? Well, the price of Real Estate along with Real Estate speculation, as largely seen throughout Hawaii, increased astronomically over the last 15 years with the seemingly sole focus on the Tourist Industry, so that even just a simple three-bedroom home cannot be purchased under $700,000 even in Waimanalo. With no "Living Wage" in sight for Hawaii, which totally depends on the Tourist and Military Industry with attractive but high-priced homes largely built for overseas investors, people failing to pay the rent will end up on the streets. And once on the street, how long will it take for one to physically and mentally deteriorate? So, the solution for many was to either move to the Big Island or leave Hawaii while they still had coins in their pockets, or become homeless.
Proposal/Solution
Yes, there are common sense solutions but we have to think fast, "Out of the Box" and act quickly. One such solution to solve the homeless crisis in greater Waimanalo and surrounding communities lies on our doorstep.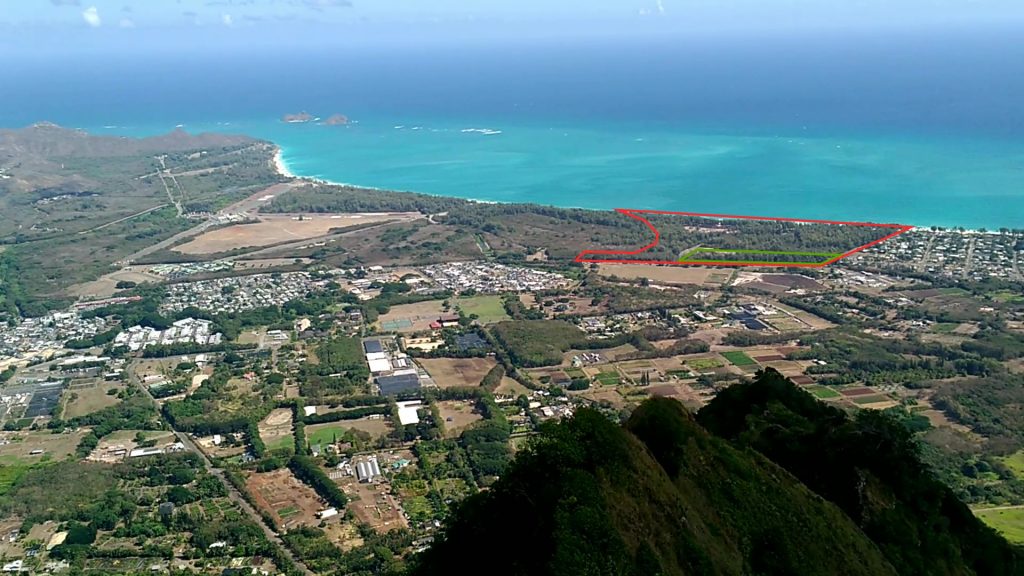 It is herewith proposed to build a truly affordable housing project on 9 acres of the City and County of Hawaii 75-acre parcel along Highway 72 (Kalanianaole Hwy.) known locally as the "Sherwood' site . The project would be composed of a minimum of 448 units (studio, one and two bedrooms) that can readily accommodate 1,200 residents and incorporates a partially self-sustainable "farming" opportunity consisting of 300 each 100 sq.ft. garden plots.
With the 2012 Waimanalo Beach Plan Final EA as an initial road map and the "Out of the Box" thinking State and County agencies, such an affordable housing center/village could be readily established here that would solve the local affordable housing and homes crisis as it is also not located in a 100 year flood zone (Map 2 Blue outline). People forced to temporarily live in tsunami evacuation zones, hiding in Sherwood Forest, in bushes everywhere, clinging on to their tents along the State Highway out of the "forbidden Zone" of the City and County of Honolulu-owned Waimanalo Beach Park, could then perhaps again live and die as human being unless the community wants to deny these people to live near and enjoy the beach. Do we all care? We will see. And we must remember that they are not only former Waimanalo residents. They have also congregated here from throughout the islands and are forced to hide while the Tourist Industry is trying to further expand its footprint here. Enacting more laws to force them "out of sight" of the tourists is not a humane solution.
While the Waimanalo solution cannot be applied so easily everywhere else, we must acknowledge that the stumbling blocks are us. Political rhetoric instead of moral leadership, resolves nothing and just makes the long-term situation worse. If we open up our minds and hearts, we can not only stem but eradicate the homeless crisis that we ourselves have largely created with our "Out of Sight and Not in Our Neighborhood" selfish rational.
Background
1. "Sherwood Forest"
Based upon earlier community support as expressed by the Waimanalo Neighborhood Board, the City and County Honolulu proposed it its 2012 Waimanalo Beach Plan Final EA to improve the site with ball fields. When work finally started on the project in the fall of 2019 after funds were appropriated by the City for such work, Hawaiian community activists, caught '"by surprise", were able to shut the project down through large-scale protests to protect their "Sherwood Forest" that intimidated and largely disenfranchised other members of the community to voice their support for the project or provide possible alternatives.
While the protests initially claimed to protect sensitive environmental resources such as the Hawaiian hoary bat (lasiurus cinereus semotus), they were largely a response to or an upwelling of the many grievances that Native Hawaiians often rightfully felt had not been addressed over the years. Therefore forgotten or not acknowledged by the activists was that "Sherwood Forest" was a graded site that had been used by the military for over fifty years. After it was finally abandoned by the military, it had largely been revegetated by nature with fast-growing non-native, invasive plant species such as haole koa (Leucaena leucocephala), a shrubby, non-native tree, and had subsequently become a hang-out during the 1960's for less desirable elements of society (not the typical homeless) with the romantic name of Sherwood Forest apparently coined during such period.
The Kapuna and affordable housing village is therefore proposed as an alternative to the proposed ballparks.
2. 2012 Waimanalo Bay Beach Park Master Plan Final (Summary: with tables and figures removed for reference)

3. 2012 Waimanalo Beach Park Master Plan Final (full).
Waimanalo History