Welcome to Hawai'i – Our Aina-Our Land-Our Home
Aloha Hawai`i (Welcome to Hawai`i) Oni Paa (Be Steadfast/Stick Together/Stand Firm). Queen Liliuokalani told Hawaiians to "Stick Together" when she and her Hawaiian Kingdom were overthrown in 1893 by the Caucasian business elite with the help of the American military and she was imprisoned. Her attempts to better the conditions of native Hawaiians and the many immigrants from China and Japan by re-establishing their voting rights endangered colonial aspirations and the enrichment of capitalists that can be gained from subjugating the local population.
Wherever we meet you, we will welcome you with Aloha and embrace you with our Hawaiian hospitality. But please take some time out from your busy vacation and shopping schedule to understand who we are and what sorrows we still carry in our hearts. Only in helping to lighten our heavy hearts can you appreciate and truly experience Hawaiian culture and hospitality.
So, please let us ask you without offending you: Do you believe in justice and truth or have you been desensitized by modern living? It happens to many people. By visiting Hawai`i please realize that you are stepping onto land that was stolen from Hawaiians in 1893 when the US military assisted Western businessmen in overthrowing the Kingdom of Hawai`i. It did not help the Hawaiians that within the previous hundred years their country had evolved from a somewhat brutal and warlike feudal system into a kingdom with one of the highest literacy rates of "civilized" countries in the world and that their kingdom had been recognized by virtually all world powers. The colonialism, capitalism and militarism that followed the overthrow along with overt racism further robbed Hawaiians of the land you are standing on and the livelihood to support their families. The land was needed by the military to house their personnel and by the business elite to make money by developing the "Disneyland-type paradise" tourist industry you are experiencing now. That is the sad history of Waikiki and Honolulu.
How would you react if your country is overthrown, you are forbidden to speak your language as your conquerors want to eradicate your culture, and you are despised or treated as inferior because of your looks and skin color? You largely live and raise your children in fear. Many of your own people subsequently die of disease brought by the conquerors, but you are nevertheless told to slave away in their fields as there is now a shortage of laborers. Of course you would not. Chinese and Japanese laborers are then imported to replace you and work under almost slave-like conditions while the racism you are suffering under is also expanded to them. That is part of the sad and also at times brutal history of Hawai`i.
Walking through Waikiki now you hardly will see homeless people anymore, thanks to the 2014 laws enacted by the City of Honolulu that swept them away from sight and sent them to Sand Island, a former Japanese internment camp. While native Hawaiians make up only 10% of the Hawaiian population now, they comprise 30% of the homeless. But native Hawaiian homelessness is not new as it has a long history in Waikiki. For example the present Fort De Russy site and its surroundings, formerly known as Kalia by Hawaiians, was probably the most prosperous, self-sustaining area on the island for fishponds and farming. However, foreigners as early as the 1850s started taking over this land from Hawaiians piece by piece. The US military, along with the white businessmen that built the Ala Wai Canal and drained the area to be able to build housing and hotels for the military and tourist industry, delivered the coup de grace. Fish ponds and plantations were deprived of their fresh water from the mountain streams and were filled with the dredged materials. Many of the displaced Hawaiians were forced to move to "Squattersvilles" such as the Ala Moana Park area which served as the City's dumping grounds at that time. The City then relocated these homeless families to a second "Squattersville" site in the vicinity of Ena Road and Kalakaua Avenue. The Hilton Hawaiian Village and surrounding hotels are all part of the Kalia site with its rich history of self-sustaining fishponds and farming. If your mind hears voices while you are in your hotel room or walking through this Disneyland-like tourist paradise, they may be the still-suffering spirits of the displaced native Hawaiians as well as Asians telling their stories. Will you listen to ease their grief?
It is understandable for visitors to Hawai`i to enjoy the fruits of the false advertising that represents today's Waikiki as a "natural" paradise as presented by the tourist industry. But please understand that the visitor industry for years has essentially cheapened and exploited Native Hawaiian culture. So, please pause and listen and you may hear the cries of the spirits of the people who suffered so much. Is it too much asking for you to help their descendants to regain just a sliver of land and a ray of justice by re-establishing a HAWAIIAN CULTURAL CENTER VILLAGE (OUR AINA – OUR LAND – OUR HOME) on the last open space land still available in Waikiki, as it would provide income, living accommodations within sight of the ocean, and a window to the world of true Hawaiian culture and hospitality? Isn't this what you also came for to experience when visiting Hawai`i?
We at alohahawaiionipaa.org are dedicated to expanding the signature drive for a native Hawaiian Cultural Center Village (Our Aina – Our Land – Our Home), owned and operated by native Hawaiians (kanaka maoli) into a world-wide quest in order to regain the last sliver of still-open land in Waikiki. This goal is now within reach because of the Worldwide WEB and its Social Media. We are not only attempting to educate tourists or visitors to Hawaii about the true Hawaiian history but will also expand this education directly to their homelands such as, for example, Japan. We are realistic that many tourists may already be too desensitized when they visit Hawaii to really understand or care as they expect to have a good time in this "tourist paradise." Our education will therefore also target the young people around the world that may visit Hawaii in the future, with emphasis on colleges and universities.
When a native Hawaiian woman plays the ukulele for you and remembers her grandparents' eviction from their homes to make room for the tourist industry, she may turn away as tears roll down her cheek. So please understand that these are not tears of joy but of a deep sadness that you may never understand. But please listen with your heart and you may be able to help heal the still-open wounds by really caring about the true history of Hawai`i. Isn't this what ALOHA is all about? Caring for each other!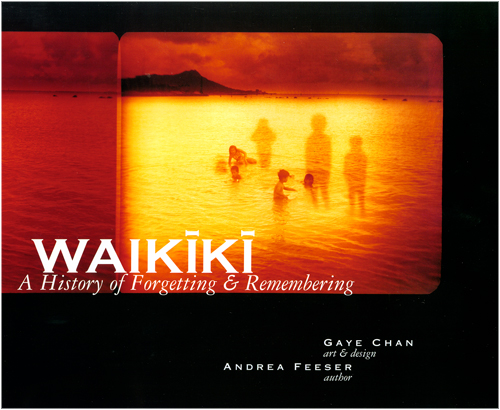 If your soul is still seeking or yearning truth and justice and desires to learn more about the true history of this presently non-sustaining "tourist paradise" labeled Hawai`i instead of indulging In what has been labeled as surface tourism which largely targets shopping, may we recommend the well-researched book, Waikiki: A History of Forgetting and Remembering (Feeser and Chan) published by University of Hawaii Press in 2006. It is a true classic. You may still find it in most bookstores and it may help you to connect with the true culture and true spirit of the old, self-sustaining Hawai'i.
An excerpt from its introduction reads as follows:
"When Waikiki's waters ran, it was a sacred site rich in aquaculture and sea harvesting as well as a favored dwelling and surfing spot for kanaka maoli (Native Hawaiians). When Waikiki's waters were stilled, it became a site developed for settlers and tourists who desired access to Hawai`i's sun, sand, and surf. As this shift occurred, Waikiki's waters, lands, and people were ravaged. Native Hawaiians who cared for their natural resources with ecologically sound stewardship were dislocated by beachgoers whose activities tax both natural and human resources. Although tourism, Hawai`i's single largest industry, brings billions of dollars to America's fiftieth state, it does so at a cost that includes a damaged environment, a displaced population, and an underpaid workforce."
 Excerpt about "Aloha Week" (p. 94):
"One of the most overt uses of the Native Hawaiian to sell Hawai`i is evident in an Aloha Week brochure published in 1959, the year Hawai`i became a State. Established in 1946 by a group of former Junior Chamber of Commerce members, Aloha Week was conceived as a means of boosting Hawaiian tourism. . . . The Aloha Week brochure sums up decades of promotion work in Hawai`i: the islands and its native people exist to be appropriated by foreigners to fulfill their dreams of exotic, carefree adventure."