History of Waikiki & The Ala Wai Canal
The almost 15-acre Thomas Jefferson Elementary School site in Waikiki across from Kapiolani Park—the only remaining largely undeveloped open space in Waikiki—is being considered as excess property by the State of Hawaii. Fronting Kapahulu Avenue from the beginning of Ala Wai Canal to Kuhio Avenue, it is the natural choice for a future Hawaiian Cultural and Educational Center and the last chance for Hawaiians to regain even a tiny fraction of the real estate that had been taken from them.
Overview of the History of Waikiki and the Ala Wai Canal*
The creation of the Ala Wai artificial waterway during the 1920s enabled the destruction of a native culture in Waikîkî and the building of a tourist mecca on its ruins. Within just eight years after the 1893 illegal overthrow of the Hawaiian Kingdom, Waikiki was becoming a popular enclave of the "haole elite" and well-to-do vacationers when the luxurious Moana Hotel was opened in 1901.
Oral tradition and archeological records indicate that Waikîkî was well established as a settlement and farming center by the fifteenth century.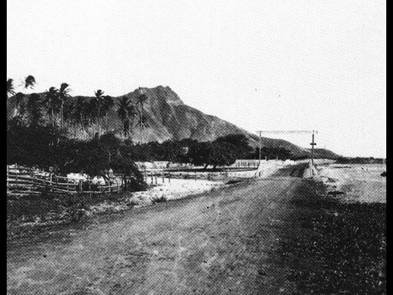 "Long before it became a tourist mecca, Waikîkî (Place of Spouting Waters) was a watery expanse fed by mountain streams, underground springs, and ocean waves. Its waters irrigated taro plantations, which in turn fed man-made ponds rich in fish and seaweed. Waikîkî nourished the spirits of Native Hawaiians as well as their bodies. The area was considered sacred; several heiau (temples) were built and many came for spiritual healing. Early Asian immigrants to Hawai'i continued to raise fish in Waikîkî, as well as duck, and cultivated acres of rice paddies. Only in the last century would Waikîkî's waters be drained (during the 1920s to build the Ala Wai Canal and use dredged material from the canal to fill in the nearby wetlands and allow Waikiki to grow as a tourist mecca), purportedly to combat disease carried by mosquitoes, but actually designed to drain the fish ponds and loi and so make the land uninhabitable to Native Hawaiians and other settlers. The Ala Wai Canal transformed Waikîkî from a self-sustaining Native Hawaiian community to an urban resort. It initiated a relentless reclamation of land for defense and building by military officials, government leaders, and businessmen, thereby ravaging Waikiki's natural environment and displacing its indigenous people to make way for military installations and hotels." (Waikiki: A History of Forgetting & Remembering by Gaye Chan and Andrea Feeser, 2006.)
Waikiki has now been transformed into the economic engine of the state, its indigenous people displaced and the factual history that made it possible largely denied its visitors.
The politically powerful today reap the benefits of Waikiki's immensely profitable tourist economy which continues unchecked on Oahu, with prime farmland being paved over as development spreads. Such development is expanding into nearby Kakaako, transforming it into another expensive concrete jungle, a version of Hong Kong, and very remote from anything Hawaii. The development—and overdevelopment—of Waikiki was apparently only the opening salvo in a war on what there is to love and to respect about Hawaii.
*Based on excerpts from a 7-27-2013 Permalink web article by Larry Geller quoting/reviewing sections of the book Waikiki: A History of Forgetting and Remembering by Gaye Chan and Andrea Feeser, University of Hawaii Press, 2006.