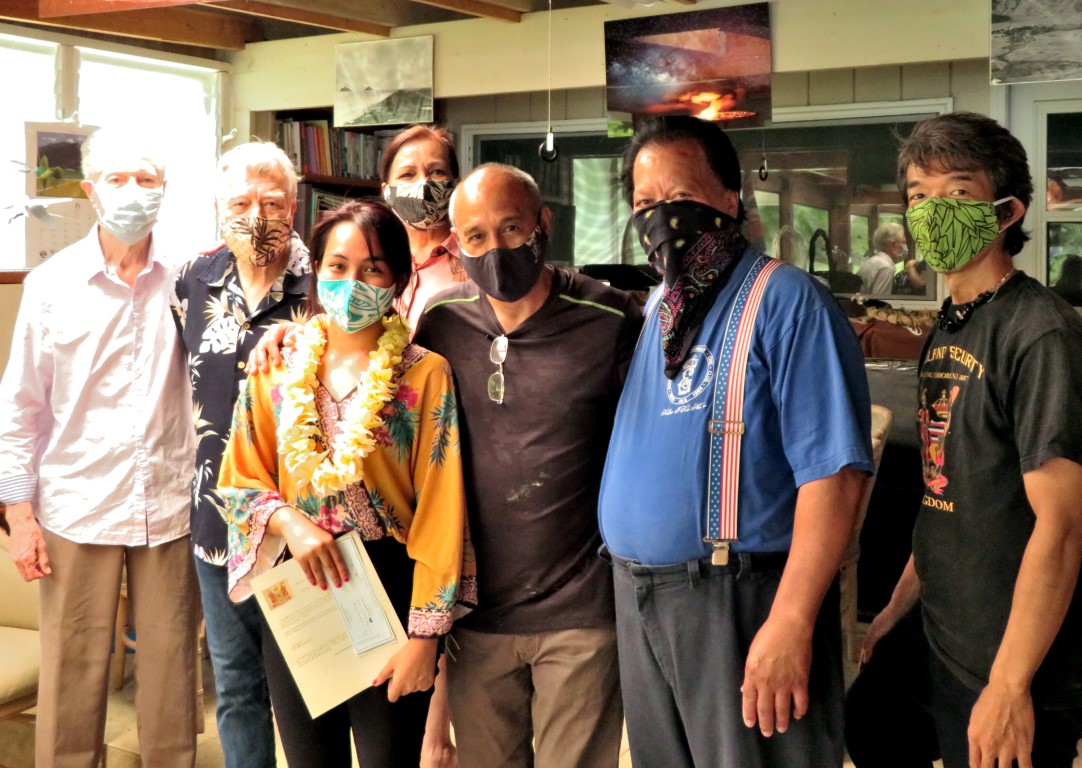 On July 16, the alohahawaiionipaa org Scholarship Committee conducted an on-site interview of well-qualified applicant India Ching at its H.Q. in Waimanalo and awarded her a four year scholarship starting with the school year 2020-21 at a minimum of $2,000/year plus $1,000 for college classes already taken and Covid-19 support.
India is presently attending UH Manoa in the Colleges of Tropical Agriculture and Human Resources (CTAHR) and is pursuing a Bachelor of Science degree in Natural Resources and Environmental Management (NREM).
Being of Hawaiian, Filipino, Chinese, Spanish and Caucasian ethnicity, she is still almost one-fourth Hawaiian. Her great-great grandfather is Honorable William Punohu 'Aweoweo 'Ulaokalani White, descendant of Kaiakea, high chief of Moloka'I who received the Royal Order of Kalakaua, Knight Commander degree by Queen Lili'uokalani. Her father, Kahi Ching, is a Maoli artist, very involved in the Hawaiian art community.
The committee was impressed not only by India's commitment to her studies as indicated by her high grade point average but also by her commitment to the community in, for example, interning during the pandemic with the Salvation Army.
India stated that In the future she would like to share the knowledge gained through her education perhaps as an Environmental Educator, becoming a speaker of the advocacy of environmental management, conservation, and sustainability in schools and throughout the community and a mentor to our youth, the future leaders to come.
Alohahawaiionipaa.org will continue to support her in these endeavors.
(Scholarships are funded by like-minded individuals that believe in and support the missions of alohahawaiionipaa org. Scholarship applications are accepted year-round)