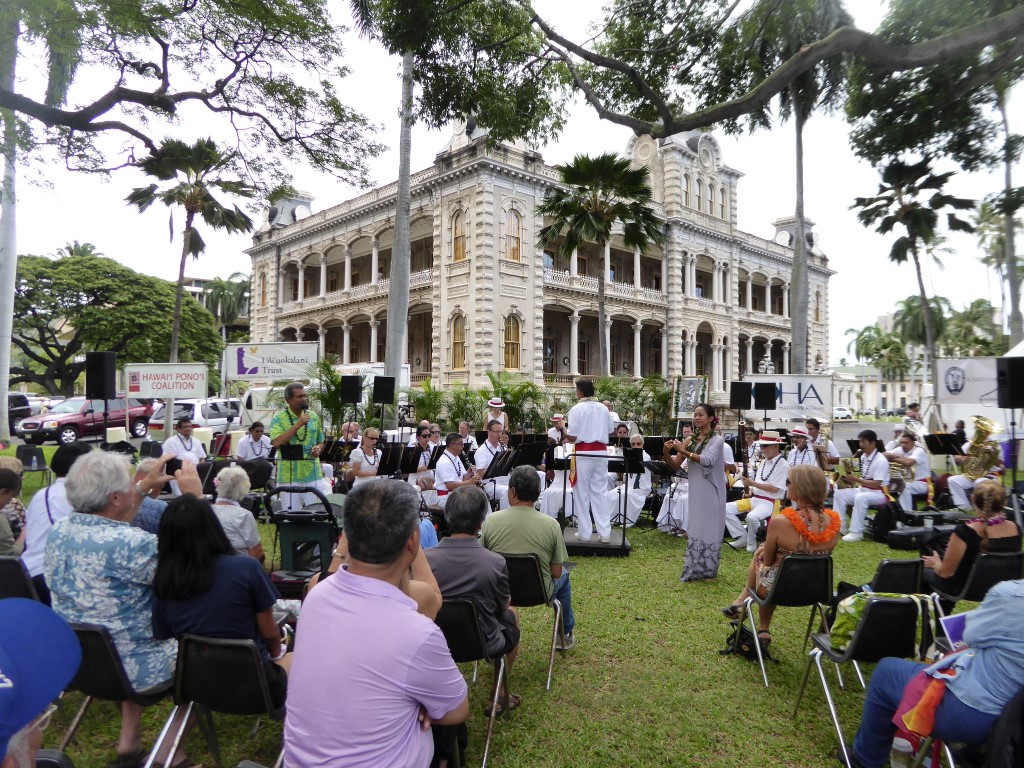 September 2, 2018 at Iolani Palace, Honolulu
 Queen Lili'uokalani was born on September 2, 1838 in Honolulu.
The all-day event, co-sponsored like so many other such events by the Hawai'i Tourism Authority, the state's tourism agency, started with an inspiring 10:00 am musical performance by the Royal Hawaiian Band. It was followed by appearances throughout the day by other legendary Hawaiian musicians. The event also included hula, Hawaiian cultural practitioners, palace tours, 'ono' food, and living history walks. Reenactment plays of historic events and handouts by Hawaiian groups pertaining to the kingdom's struggle for survival prior to its overthrow in 1893 further honored the life-long struggle of the Queen and her Hawaiian subjects for the independence of the Kingdom of Hawaii and provided further food for thought. Other such events were also enacted throughout the State.
Like other visitors to the islands, our members and guests enjoyed attending the event, learning from it, supporting its vendors, and honoring the memory of the Queen. Appreciated by attendees were also the free handouts of our Queen Lili'uokalani's 2017 brochure honoring her memory on her 100th year death (1917-2017), as it also provided an overview of the history of the Kingdom of Hawaii. It had been printed in the ten languages of countries that had recognized the independence of the Kingdom of Hawaii prior to its overthrow in 1893 by American and European business interests with the direct support of the American military. The brochure had been financed and printed by alohahawaiionipaa.org in the ten different languages of the countries that had officially recognized the Kingdom of Hawaii as an independent country. These countries were Great Britain and France (1843), Denmark (1846), the United States (1849), Sweden and Norway (1852), The Swiss Federation (1864), Russia (1869), Japan (1872), Austria-Hungary (1875), and Germany (1879) after unification.