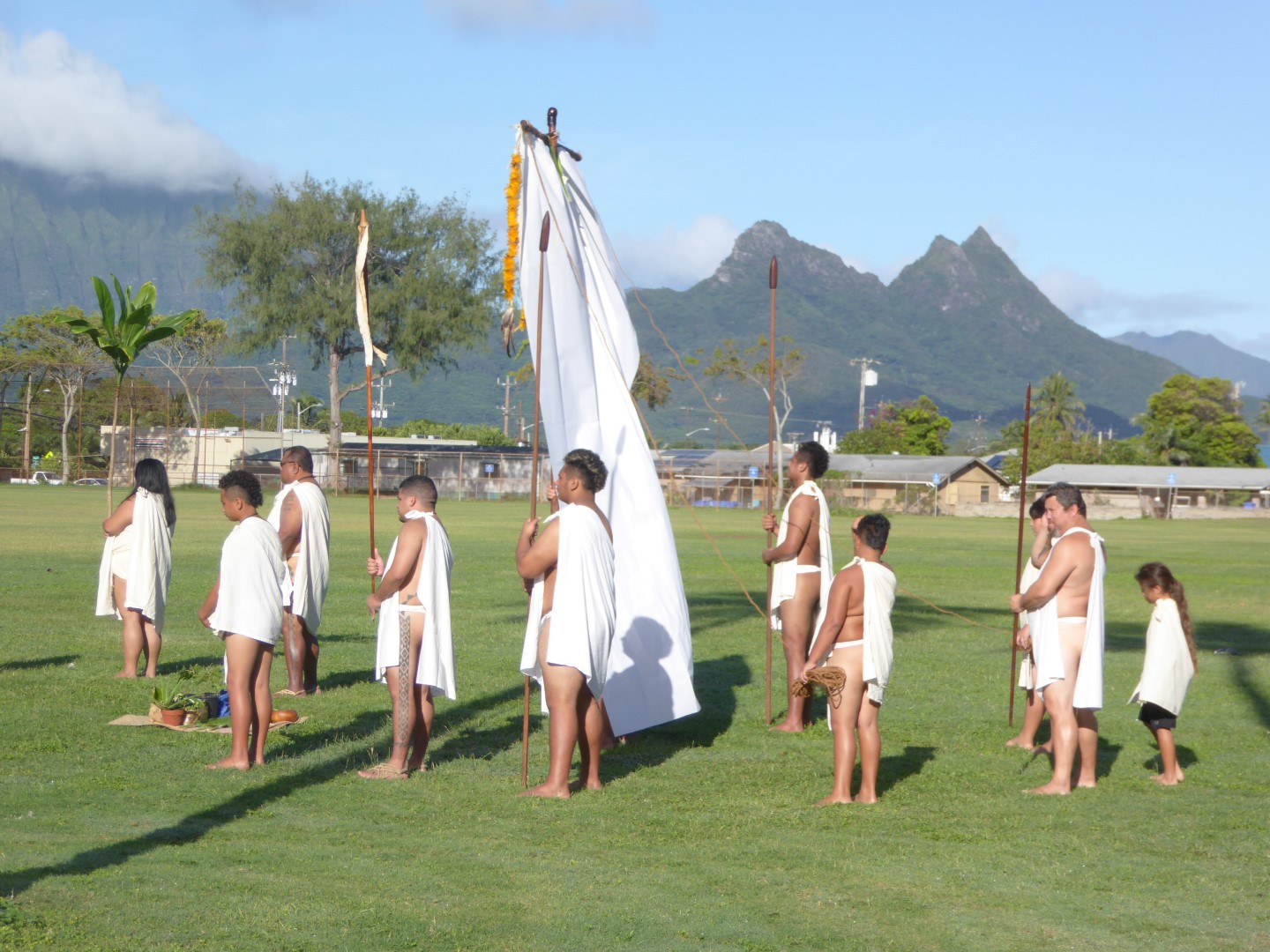 On November 18, 2017, Waimanalo Community Makahiki Festival sponsored by the Civic Club of Waimanalo in cooperation with Alohahawaiionipaa.org was conducted at Gabby Pahinui Pavilion at Waimanalo Beach Park.
The rise of Makaliʻi (Pleiades) in the eastern evening sky shortly after sunset as early as mid-October signified that at the next new moon a new year and the beginning of Makahiki would begin. Makahiki was a four month harvest festival which extended for four consecutive lunar months and celebrated the bounty of the land, honoring Lono, the god of Rain, Peace, Agriculture and Fertility. During this time war was prohibited and it was a time of relaxation, festivities and tax collection from what the land had to offer inclusive of harvested goods, bird feathers, etc. These were largely collected in a procession through the ahupuaʻa (land division from the mountains to the sea) with men normally carrying a Lono standard. Some of the collected items were then left on an altar (ahu) while others were taken to the chiefs as a form of tax collection. The remainder was largely redistributed back to the ahupuaʻa. After this the celebrations began, marked by dance, song and games.
As shown in the photos, the Makahiki festival was held at Waimanalo Beach Park with the ocean, the Ko'olau Mountain Range and the three Olomana peaks as inspiring backdrops. Lono was represented by the akua loa, a long staff with a Lono carving at the top and a cross-piece with pieces of pala fern, feathers and skins of the ka'upu bird near the top where a bark-cloth (kapa) was also fastened. The offerings were presented by a procession of selected commoners who gave it to a messenger who in turn presented it to Lono. After the offerings of gifts and the procession, the festivities started along with a catered free lunch for all who attended.